Raw Material and its Source.
The raw material for Activated Bleaching Earth is Bentonite (Montmorillonite Clay), derived from degeneration of Volcanic ashes. This is Chemically on Aluminium hydrosilicate in which the ratio of silicic acid to Alumina is 4:1.Pakistan has rich deposits of Montmorillonite in the province of Punjab, North-West Frontier province, Azad Kashmir etc. We own mines in Garhi Chandan and Aza Khel area, Peshawar Division, Pakistan, which have extensive deposits of rich Montmorillonite capable of producing high bleachibility Activated Bleaching Earths.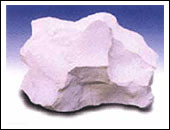 A lump of the raw material
clay from our Peshawar
mines
For the production of GOODEARTH Bleaching Earths, we mine crude Bentonite from our own mines. Only selected useful Bentonite strata are worked. The excavated clay deposits are further subjected to grading by visual examination at the mouth of the mines and lumps with heavy extraneous matters are removed physically

This is transported to the factory and stored in a large space. Samples are taken of all clay deliveries to the works and are analyzed in the laboratory to determine the bleachibility and other qualities. The clay found suitable for various grades is only used..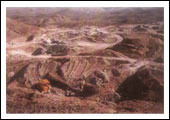 Excavation work at
Peshawar Mines